Highlights:
Drove North from Hamnøya to Flakstad and back (about 60 km round trip)
Photographed Skagsanden Beach & Flakstad Kirke (Church)
First Aurora Borealis (aka Northern Lights) sighting
Today, we had a lot of snow in the morning that reduced visibility considerably and slowed us down. We were able to visit only about 50% of the spots in our original plan. After a terrific breakfast prepared by our Chef Extraordinaire Dash with support from Revathy and Susheela, we left the rorbu at sunrise. First stop was at the entrance to the E10 to take more pictures of the Rorbuer from the bridge. It was very cold but visibility was reasonable for 30 minutes or so. Then snow started falling and the visibility deteriorated rapidly and we got back into the car and started driving north towards Ramberg.
Just before we entered Ramberg, we came across two terrific looking bridges. There were no cars in either direction. We stopped in front of the first bridge and shot a few pictures with our smartphones.
We crossed the 2 bridges and headed to Fredvang. It started snowing heavily and visibility was extremely poor. We couldn't see much in Fredvang. We took a U-turn and got back to E-10 towards Ramberg on the look out for a restaurant or a gas station for a bio-break.
People seem to drive very fast in heavy snow compared to the US. We were quite impressed with the speed of snow removal even in small villages with a population of under 100. On the way to Ramberg, a van had skidded on E-10. Even though it is an European highway, in Lofoten, it is just one lane in each direction. We had to wait until the van was towed by a snow plow.
We reached Ramberg at around 11. As it was Sunday, cafes, the grocery store, and gas stations were closed. The StatOil Diesel pump wouldn't accept my Chase Sapphire Reserve (Visa) Card. Luckily, it did accept the Arrival Barclaycard (MasterCard). Moral of the story: when you travel internationally, it is prudent to carry at least 2 credit cards. We filled up gas (Diesel) and started looking for a restaurant. Ramberg Gjestegård restaurant was closed but we knocked on the door anyway. The owner was kind enough to welcome and offer us coffee and tea. 2 cups of coffee, 1 cup of tea, and 1 cup of hot water cost us US$12. Now you know why Norway is one of the most expensive countries to live/visit. Revathy, Susheela and I walked around behind the restaurant where there were some nice looking cabins facing the beach. We shot a few images.
I located a beautiful yellow home across the street. All of us shot a few images of the house.
We left Ramberg at around noon and headed to the Skagsanden Beach. It started snowing heavily and the wind was ferocious. Susheela, Revathy and I were brave enough to get out of the car and shoot the image of a cute red shack at a beach.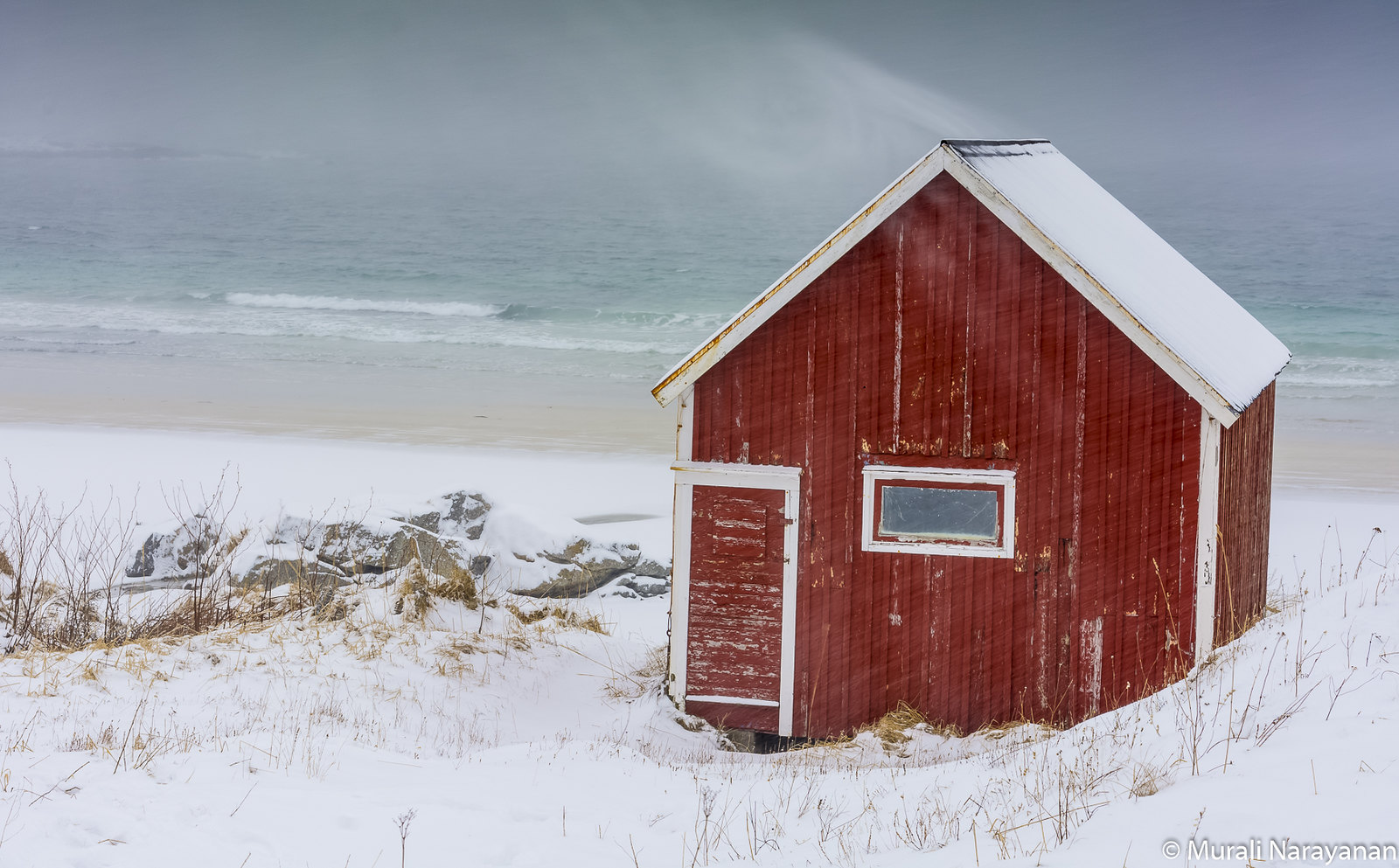 Soon we reached the Skagsanden beach. The visibility was poor and we didn't bother to even get out of the car. We  decided to check out the Flakstad Kirke (Church) a couple of miles north of the beach. On the way, we saw a cemetery with a nice looking building.
Soon we reached the beautiful church. We walked around the church and shot a few pictures. Unfortunately, even though it was a Sunday, the church was closed.
It was close to 2pm when we returned to Skagsanden beach. Snow had subsided. We ate our usual sandwiches, fruits, and yogurt in the car. Visibility improved. It was peaceful.
At around 3pm, it was time to get back to the rorbu as the light was fading fast. We stopped by the 2 bridges to Fredvang and returned to the rorbu at 4pm.
After dinner, I checked out the Northern Lights forecast for Lofoten and it was a bit favorable. We decided to venture out. We went to the E10 bridge next to the rorbuer. Susheela whose eyes are optimized for locating the lights announced that she was seeing a green patch behind the mountain in front of us. I set up my camera and took a shot – yes, there was a light green glow.

As the light pollution was very high, we decided to drive a bit north to a spot along E10 with little light pollution. We found a huge parking lot about 2 miles from the rorbu and parked our car. The green glow increased in intensity about 15 minutes after we reached but it was still very cloudy. Here is an image I captured. Not a great show that lasted about 20 minutes but this was an insurance shot.
We got back to the rorbu and went to bed with an anticipation of seeing better northern lights in the coming days.